About

                                 Vision and Mission
To inspire and empower people to create their dreams, identify their purpose & live life with passion.
To guide thought leaders to use consciousness tools to open creativity, use intuition and discover solutions to today's challenges.

To help organizations sustainably adapt and evolve modeled after successful natural systems.

To facilitate deeper connections and communication with all forms of life.
What is HeartMind SPEAK ?
HeartMind Speak is a process model which guides people to access and integrate their thoughts and feelings into their lives personally and in businesses.  The result of over 35 years of applying successful natural systems' models to human social systems, HeartMind SPEAK is the synthesis of years of dynamic integration working with animals, nature and people to enhance communication, creativity and thinking allowing people to form better relationships,discover their passion and purpose, and solve many of the challenges of today with inspired enthusiasm and knowledge.
The HeartMind SPEAK model evolved out of the O.F.F.E.R Techniques (Open-Friendly-Focused-Empathetic-Respectful) first published in 1984 as a form of deeper communication with people and animals and the B3 Model used in helping people and organizational identify and overcome obstacles to success.  Based on science similar to what has been researched with organizations such as The Institute of HeartMath and the Institute of Noetic Sciences, the HeartMind SPEAK approach is founded on a  'life-centric" perspective  providing a broad application of the tools for identifying and shifting beliefs, accessing higher levels of information and developing more sustainable connections and communication.  The end result — happier and healthier people, organizations and nature.
_________________________________________________________________________________________________________________________________
What Others Say –
"Mary Ann may be the original horse whisperer, and she brings that same sensitivity to her business relationships.   She knows when to bring the whip or the gentle pat, at just the right moment, creating the positive energy that most tense situations need.   She will not let you, or your team down."
Doug Guyer
President and Co-Founder BrandShare
_________________________________________________________________________________________________________
"Mary Ann has a wisdom based on decades of varied experiences as well as on her intuitive gifts.  The combination is quite special and I have found her insights and guidance to be very beneficial as I explore new twists and turns along the journey of being of benefit to all beings. I am immensely grateful to Mary Ann for her sharing, coaching and her unique gifts.  No words truly describe all her compassionate ways in which she can be of benefit to you and your animal friends."
Allen M. Schoen, MS, DVM, PhD (hon)
Veterinarian, Best Selling Author
___________________________________________________________________________________________________________
Mary Ann is a catalyst for awareness, growth and change.  Her skills are immense and she speaks on many levels that resonate with the condition of the universe, people, animals, plants and what we need to do to make the world a better place and invoke change for the good of all.
Amy Kendis, MS
"Mary Ann has been a wonderful and supportive mentor and life coach. As a young teenager, she helped me believe in myself and discover my strengths guiding me to follow my passion and interests.
On an organizational level she has been an insightful advisor in helping to structure our organizational development model and has helped drive the youth leadership aspect of our organization."
Jessica Newman
Founder and Executive Director, JustWorld International
 ___________________________________________________________________________________________________________
"Mary Ann Simonds is a true facilitator and a rare talent.  We were grateful to work with her at such an early stage in our development and teaching us whole systems thinking.  I would recommend MA's services to anybody, company, individual or animal owner, seeking to evolve, grow, transform or transcend."
Jeffrey Wallin
CVO, Founding Partner The Biochar Company
___________________________________________________________________________________________________________
READ MORE……..
A Little More Background —
Speaking, writing and teaching on various forms of human -human and human-animal communications and interactions throughout the 1980s and 90s, a broad variety of clients participated including such organizations as AT&T, B of A,, East Bay MUD, the BLM, the USFS, and SeaGrant. The model was evolving by conducting talks and trainings on communication// conflict resolution and stress management in the workplace as well as addressing the scientific paradigm of behavioral study.In the mid 1980s I started EcoVisions Associates with 2 partners. Together we assisted organizations in stress management communication, leadership, strategic planning and change management. My work with EcoVision's Natural Encounters" -Outdoor Meetings, allowed me to continue to research the affect of being in nature on how people thought and responded to each other as well as how they relaxed and refreshed before going back into the office.
Known as the " Nature Girl " in some businesses circles, I gained a reputation for teaching people how to relax and de-stress quickly in the workplace using some form of connection to nature or animals. While working as both an organizational/leadership consultant and an ecologist, I naturally integrated the two fields participating in "think tanks" and emerging organizations in Eco-Psychology, Consciousness, and Eco-Tourism while helping to develop the fields of Human-Animal- Nature Interactions.. At about the same time I obtained my Masters degree in Inter-disciplinary Consciousness Studies and a specialization in Organizational and Leadership Development.
Being able to apply a model for creating personal and business success based on integrating both science and intuition with a strong focus on cognitive and emotional processes allowed me to assist a number of people in various fields such natural resources, community planning & development, tourism, marketing, health,care, organizational development/leadership, product development, animal welfare, government agencies,, non-profit organizations, and educational institutes."
Brief Bio
Educator – Author, Coach, Consultant and Mentor
Over 35 years of educating people using various media including TV, books, articles, speaking, training, lectures, designing and conducting courses, and clinics a to inspire and empower people to integrate their hearts and minds, connecting with life and making a positive difference in the world..
If you would like a traditional Bio or CV, please contact me.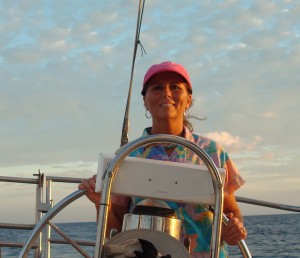 A "Thought Pioneer", Intuitive Scientist and an Eclectic Entrepreneur
Founded  Equines LTD to address business and marketing needs in the horse industry & EcoVision Associates in the early 1980s after 6 years of working as a reclamation and wildlife specialist/project manager in the mining and resource management sector. In the mid 1980s I founded the Whole Horse Institute and the Institute of Integrated Sciences providing consulting and education  primarily in the horse, natural resource and mental health care industries.

A Researcher, Inventor. and Natural Health Educator.
Researching how exercise, diets and domestication affects stress in horses I developed a line of stress management products for horses including the Natural Vibration line of magnetic therapy licensing rights to Toklat Originals.  Addressing a natural non drug way to manage emotional stress in horses, people and pets I researched and developed a line of behavioral management essences. and aromatherapy products for  Toklat Originals and Mystic Horse. Years of teaching holistic health integrating Chinese Medicine, Homeopathy, Energy Medicine, and other modalities has allowed me to help people and animals on many levels. Over a thousand case studies of treating emotional and behavioral issues lead to the development of the Mystic Horse line of vibrational remedies. (www.mystichorse.com)
An Author, Speaker, and Multimedia Producer .
Publishing numerous  articles and papers since 1976 on topics from wild horse management, and equine behavior to community development and leadership development, , I have lost count of all the magazines, journals, and conferences. Have made  the cover of several magazines in the US and Europe and have been honored to be one of the top billed speakers at international conferences in  horses (Equitana), tourism (ITEX) and health. I have been both 'talent " and producer as well as consultant on a number of  videos, films and TV productions.  Have 3 books published with 2 in German. More books are in process. Produced one of the first horse videos in 1984 – "The Art of Buying a Horse" , followed by "Think Like a Horse" in 1990, "Herbs and Aromatherapy for Horses",  "My Space, Your Space-Understanding Horse Culture" and "Wild Horses-Understanding the Natural Lives of Horses" and a number of audio Cds including Enchanted Kinship – a guided meditation for self awareness and balance.
I started a number of social media communities to bring people together in niched areas such as equine behavior, horseowmen, interspecies connections, catalysts for consciousness, and others.  I have been one of the top contributors on LinkedIn facilitating several groups in cross-disciplines and topics and manage a number of facebook groups.
 A Facilitator, Retreat Leader and Organizational/Leadership Development Consultant     

The HeartMind SPEAK techniques were well tested on small and large businesses since the mid 80s. I have facilitated groups such as the Western Washington BLM RAC (Resource Advisory), numerous task forces, meetings, and trainings, as well as guided the start up or OD of s such non-profits as JustWorld International, ISPMB or IAATH as organizations. I have conducted numerous retreats from Hawaii to Colorado to Florida for private groups as well as collaborating with organizations such as Women's Quest. Developing and guiding  leadership training with governments,  businesses, non-profits and individuals, and  youth.
An Ecologist & Community Developer with a Marketing Focus

Nature is a creative force who communicates constantly for the benefit of the whole. Since 1980 I have marketed "nature" to business, developing collaborative partnerships between businesses, non-profits, governments and community groups to solve environmental conflicts. I have been involved  in more than 50 collaborative processes, including rafting ordinances, BMPs,, defining community visions and conducting strategic community plans.  Projects such as developing a rest rotations system for tourists at Hanauma Bay, HI, to drafting and passing a "Stewardship Ordinance" making development easier for those who improve nature in Clark County, WA demonstrate how I have worked collaboratively. Always looking for innovative people, I have worked across disciplines helping to protect nature and equestrian communities through creative ideas and marketing strategies.
A Wild Horse Expert and Applied Equine and Human Behavioral Therapist
Living my passion I have studied wild horses throughout the Western US, since 1973, serving on the Wild Horse & Burro Advisory Board (1990-1992),, being hired as an "expert witness" on equine behavior cases and assisting thousands of people and horses over the last 35 years. With a focus on education, I continue to blend my work with horses and humans to bring balance and happiness to both species through private coaching, consultations, writing, speeking and clinics,